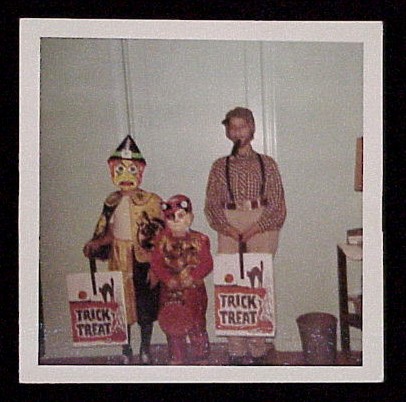 My wife and I grew up in the 60's & 70's and remember that Halloween was fun for both the children and the adults (second only to Christmas). As kids, we looked forward to the excitement, costumes and candy for days. My parents looked forward to it as a chance to show off their holiday creativity. As trick-or-treaters approached my childhood home, they often heard a "Sounds of the Haunted House" phonograph record playing in a nearby open window and saw plywood tombstones, fabric ghosts and jointed cardstock skeletons. It would all have seemed pretty cheesy by today's retail store standards, but back then we all loved it.
After the wife and I met & eventually married, we started out living in an apartment. During those years, our outside decorations were pretty much restricted to a solitary jack-o-lantern by the front door and no one ever came by to trick-or-treat on Halloween night. Sadly, our oldest son grew up believing that Halloween meant wearing his costume in the afternoon at the local shopping mall to get some free candy.
Soon after we bought our first home, we quickly made up for years of missed Halloween fun. We started mainly with an abundance of store-bought decorations; What we lacked in originality, we made up for in volume. Each year, new decorations were added to the display, but we knew we wanted to get more creative. Then, as luck would have it, we drove past a small yard haunt in my parent's neighborhood during Halloween 2002. The owners had put together a creepy little cemetery display with some home-made tombstones, effect lighting and a fog machine. The wife and I both grinned at each other and we said "We're doing something cool like that next year!"
And that's what we have tried to do. Pictures of it all are in the Photos pages.
From the 'believe it not' department, here's a true story worth telling: While I was setting up for Halloween 2005, a realtor who was showing a house on our street walked over to our front yard to admire our cemetery fence. She told me that they also decorated their yard for Halloween and she wanted to tell her husband about how we made our fence. We were quite surprised to discover that they were the owners of the house in my parents' neighborhood with the small yard haunt that had inspired us three years earlier to make our cemetery! (100% true story, I swear.)